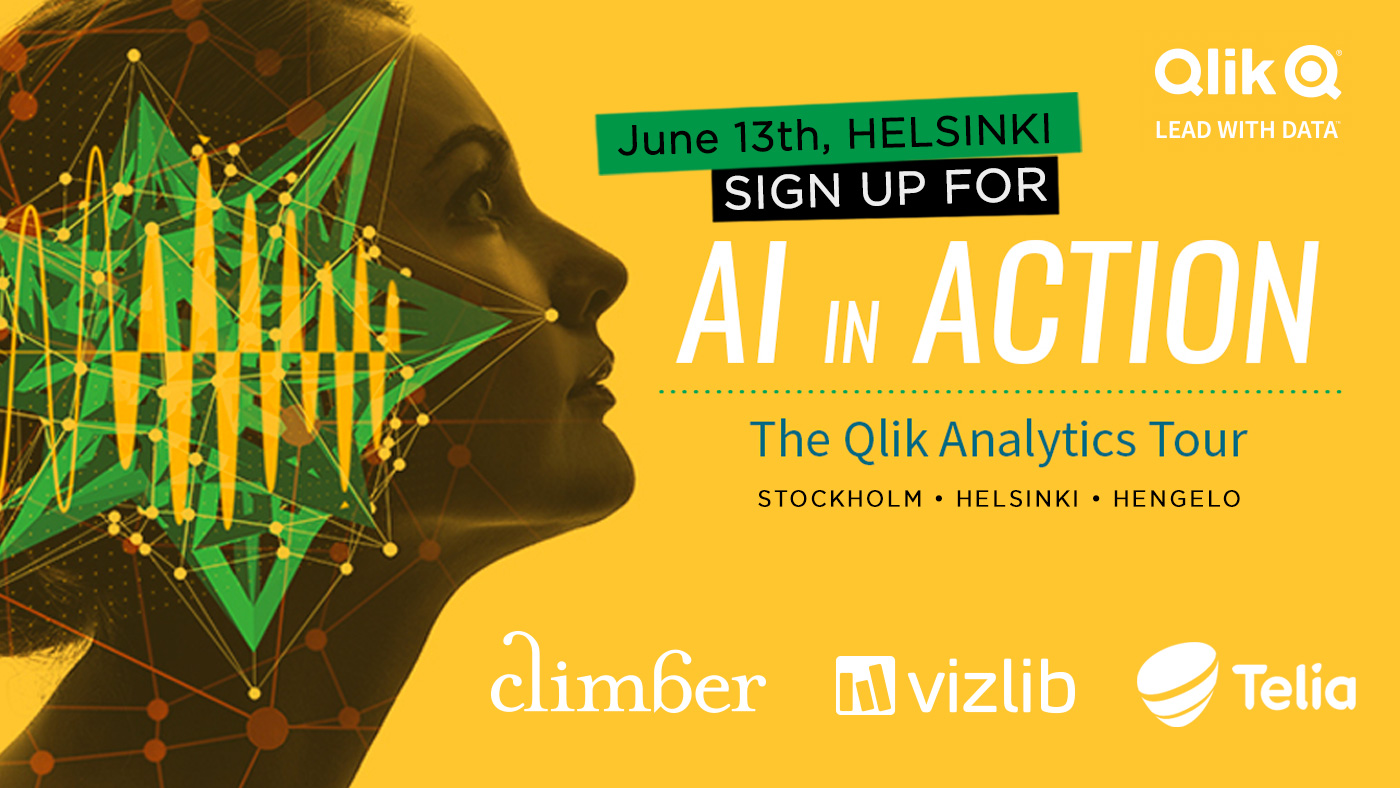 EVENT – QLIK ANALYTICS TOUR – HELSINKI JUNE 13TH
You've heard enough about AI. Now see it in action.
Looking for fresh approaches to using data ― and using it to lead? Wish you could give everyone in your organization the power to drive a competitive edge? Join us for AI in Action: The Qlik Analytics Tour, where we'll explore the revolutionary new ways businesses are using the Qlik Sense analytics platform to transform, reinvent, and pull ahead of the pack.
Be among the first to learn about Qlik's powerful AI capabilities, Cognitive Engine, and Augmented Intelligence approach. And join a passionate group of data and analytics leaders with the expertise to share. You'll leave with fresh insights and solutions that will surprise your business.
Join us at the tour to:
See how to use Qlik Sense for business transformation and check out all the latest features.
Discover the power of Augmented Intelligence and learn how it works in Qlik.
Check out our latest Qlik Sense Extensions – the Climber Extensions and the Vizlib Library – and how they will improve your Qlik Sense experience.
Hear from our customer Telia Finland how they use Qlik Sense and extensions to increase business value.
Try Qlik Sense! Join our beginners' workshop and get to know the tool.
Practical Information

Date: Thursday June 13th
Time: 09.00–13.00, optional workshop 13.00–15.00
(Breakfast will be served from 08.30)
Location: Scandic Hotel Simonkenttä, Helsinki
AGENDA

08.30 Registration & Breakfast
09.00 Welcome to the QAT with Climber!
Welcome, introduction and agenda. 
09.00 AI in Action: Get the most out of AI with Qlik Sense! – Keynote & Live demo
With the Qlik Cognitive Engine, you'll get the most out of AI. Join this session and learn about Qlik's powerful AI capabilities, the Cognitive Engine, and their Augmented Intelligence approach. Check out all the latest features in Qlik Sense in our live demo. Jussi Saarinen, BI Manager at Climber, will show and explain how you'll benefit and drive competitive edge.
10.00 Coffee Break and Q&A
10.30 Customer Success: BI & Qlik Sense @Telia Finland
Hear from Tommi Lahti, Senior Development Manager at Telia Finland, how they are working with Qlik Sense and extensions to enable self-service BI to increase business value. 
11.00 Extensions for Qlik Sense – Climber Extensions & The Vizlib Library
More is more! Martin Mahler, CEO at Vizlib, will show you all our latest and greatest extensions for Qlik Sense and how they will help you get the most out of your investment in BI.
12.00 Lunch and demo 1:1
Lunch, Q&A and get a livedemo 1:1 of Qlik Sense, Climber Extensions and the Vizlib Library.
13.00–15.00 Qlik Sense Beginners Workshop – OPTIONAL!
Try Qlik Sense! Join our beginners workshop and get to know Qlik Sense. Learn the basics features, get familiar with the navigation and build your own application, adding your own data. You also learn how to add and work with extensions in Qlik Sense. Sign up today and bring your laptop! 

Don't miss your chance to get hands-on exposure to the newest and most exciting innovations in analytics. The event is free, and spots are limited.
Blog
Today, QlikWorld kicked off and Qlik announced their strategy going forward, sharing their holistic approach including QDI, QDA and data literacy.
>> Get the highlights from the initial 120-minute session!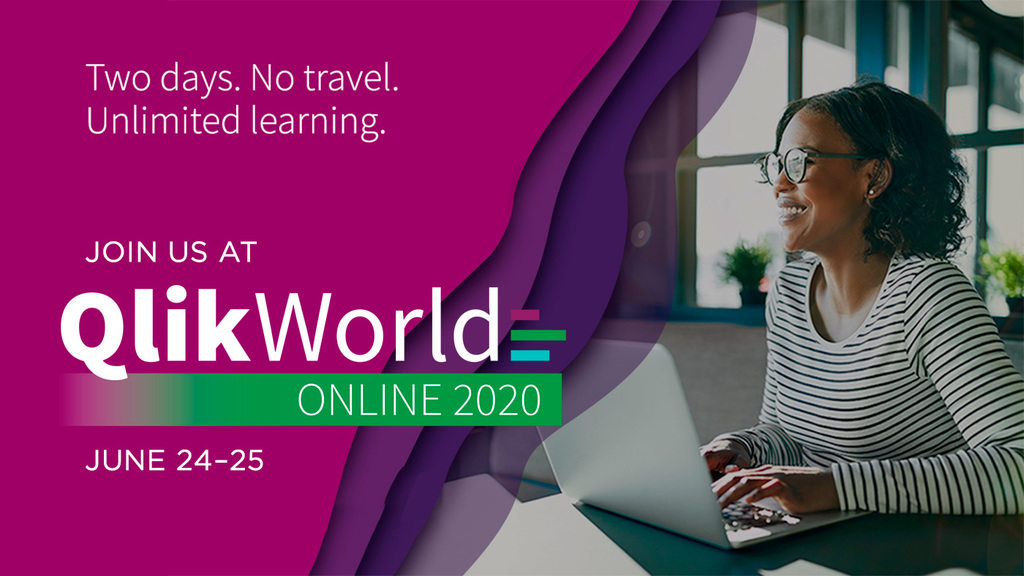 Event
QlikWorld is coming up June 24-25! Join us to take part of what's in the works regarding Data Analytics, Data Integration and Data Literacy. Get inspired by success stories, enhance your skills with hands-on exercises and be first to check out Qlik's product news!
>> Sign me up!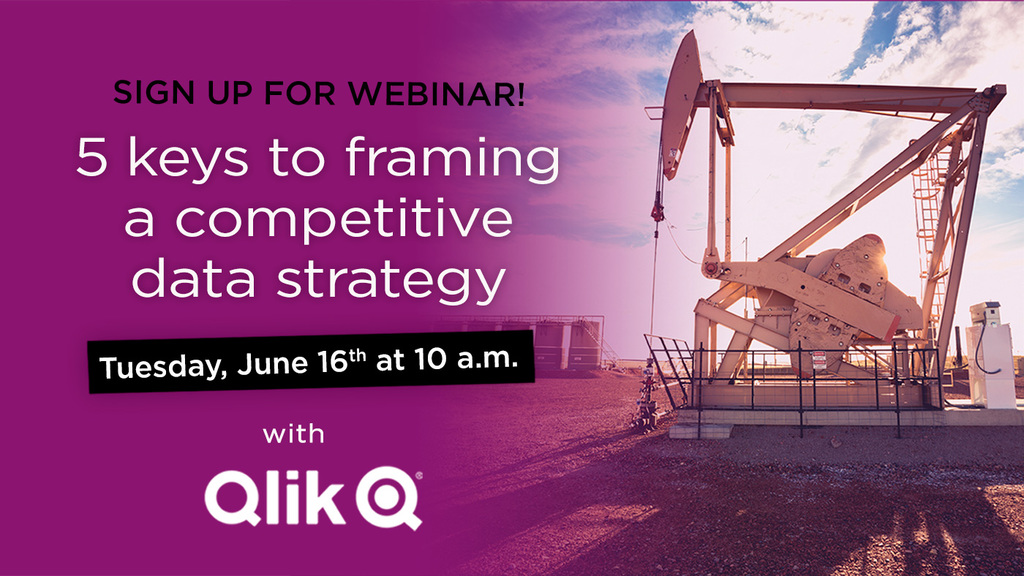 Event
Sign up for our 30 min webinar, learn what to keep in mind when defining your data strategy and how to sidestep the pitfalls!
>> Register here!