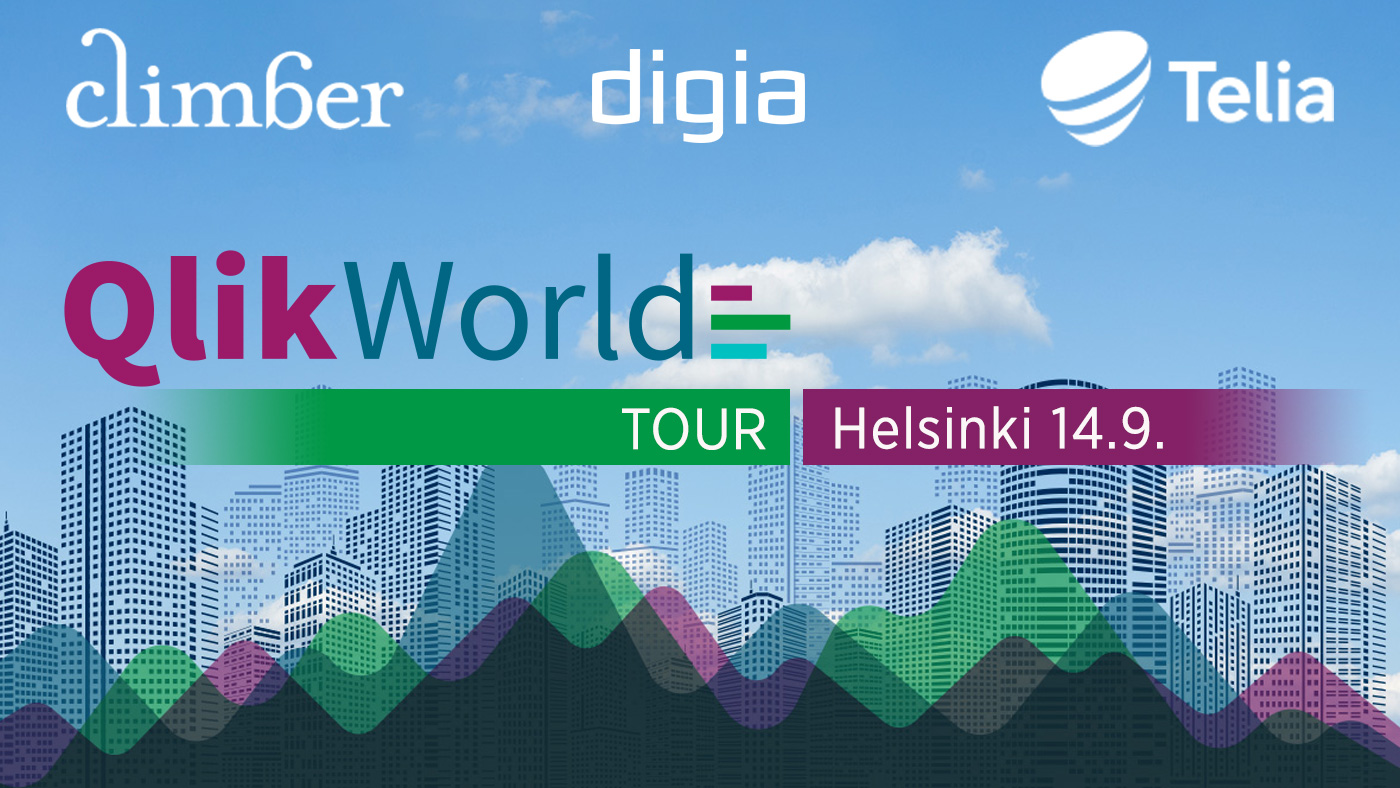 TAPAHTUMAT
QlikWorld Tour 2022
Keskiviikkona 14.9.2022   •   Klo 8.30   •   Hotel St. George, Wintergarden
Directions: Yrjönkatu 13 C, 00120 Helsinki
Oikean datan saaminen oikeille ihmisille oikealla hetkellä ― hyvien päätösten tueksi ― voi olla monimutkaista. Näin sen ei kuitenkaan tarvitse olla.
Tule mukaan Climberin ja Digian QlikWorld Tour -tapahtumaan 14. syyskuuta. Näet, kuinka Qlikin ainutlaatuinen lähestymistapa dataan ja analytiikkaan antaa luottamusta ja tukea päätöksentekoon.
Tulet kuulemaan mielenkiintoisia puheenvuoroja ja esityksiä visiostamme sekä datan ja analytiikan tulevaisuudesta. Inspiroivat asiakastarinat antavat eväitä omien suurten liiketoimintaratkaisujen tekoon.
Paikkoja on rajoitetusti, joten ilmoittaudu pian ja varmista paikkasi!

OHJELMA
08.30 Aamupala & ilmoittautuminen
09.00 Tervetuloa
Jussi Saarinen – Managing Director, Climber
Sami Paihonen – Senior Vice President, Intelligent Solutions, Digia
09.30 Keynote: Creating Certainty in a Changing World
Jatkuvasti muuttuvassa talous- ja markkinatilanteessa oikeaan dataan pääsy oikeaan aikaan on elintärkeää, samoin aktiivinen reagointi tapahtuviin muutoksiin.Käyttäjän kokonaisvaltainen ja reaaliaikainen näkymä tarvitsemaansa dataan antaa luottamusta tehdä oikeita päätöksiä. Esityksessä käydään läpi, miten Qlik vastaa erilaisiin markkinatilanteiden haasteisiin "Active Intelligencen" avulla. Käydään läpi erilaisten esimerkkien avulla, miten Qlikin Active Intelligence -alustaa voidaan hyödyntää nyt ja tulevaisuudessa.
Mikko Kuusela – Principal Solutions Architect, Qlik
10.15 Kahvitauko
10.45 Matkalla Qlik Cloudiin
Millainen on siirtymä QlikView- ja Qlik Sense -maailmasta Qlik Cloudiin? Tässä puheenvuorossa kuulet Telian matkasta kohti hybridimallia ― mitä haasteita voi tulla vastaan ja millaisia muutoksia se toimintaan tuottaa.
Tommi Lahti – Senior Development Manager, Telia
11.15 Varmuutta datan avulla: Qlik Active Intelligence -alusta
Tässä esityksessä näet demon avulla, kuinka Qlikin ainutlaatuinen lähestymistapa antaa organisaatioille mahdollisuuden tehdä varmoja päätöksiä dataan pohjautuen. Reaaliaikaisen tiedonsiirron, workflow'n automatisoinnin ja hybridipilven innovaatioiden ansiosta Qlik tarjoaa modernin lähestymistavan yleisiin data- ja analytiikkahaasteisiin. Tämä esitys osoittaa, kuinka Qlik vastaa näihin haasteisiin alan ainoalla end-to-end -ratkaisun tarjoavalla Active Intelligence -alustallaan.
Mika Ahtinen – BI Manager, Climber
Miikka Koskinen – Technical Director, Climber
11.45 Loppusanat
Jussi Saarinen – Managing Director, Climber
Sami Paihonen – Senior Vice President, Intelligent Solutions, Digia
12.00 Lounas & verkostoitumista
13.00 Qlik Sense SaaS -hands-on (2h)
Tule mukaan oppimaan Qlik Sense SaaSin käyttöön ja toiminnallisuuteen liittyviä käytänteitä. Qlik Cloudin toiminnallisuudet, kuten hälytykset, tiedon jakaminen ja kollaboraatio. Hands-on sessiossa käydään asioita läpi niin käyttäjän kuin kehittäjän näkökulmasta. Koulutukseen osallistuminen on vapaaehtoista.
Mikko Jyrkiäinen – Senior BI Consultant & Training Manager, Climber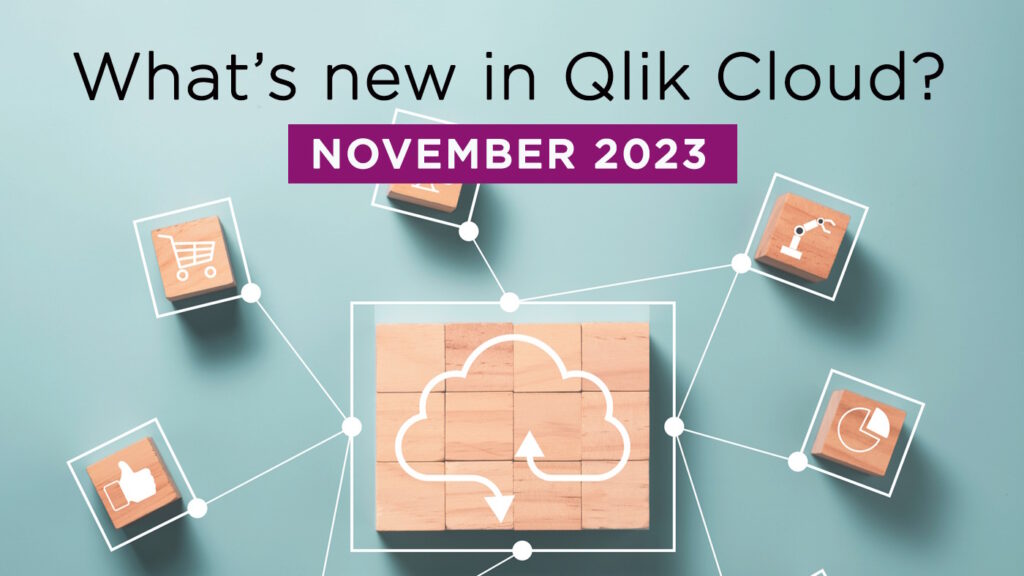 Blogi
Here we give you the latest and greatest in new features added to the Qlik Cloud platform. It's now easier than ever to migrate your Qlik Sense apps to Qlik Cloud and to navigate between the Qlik and Talend Clouds if you are an existing Talend customer. Learn more in the blog!
>> Read more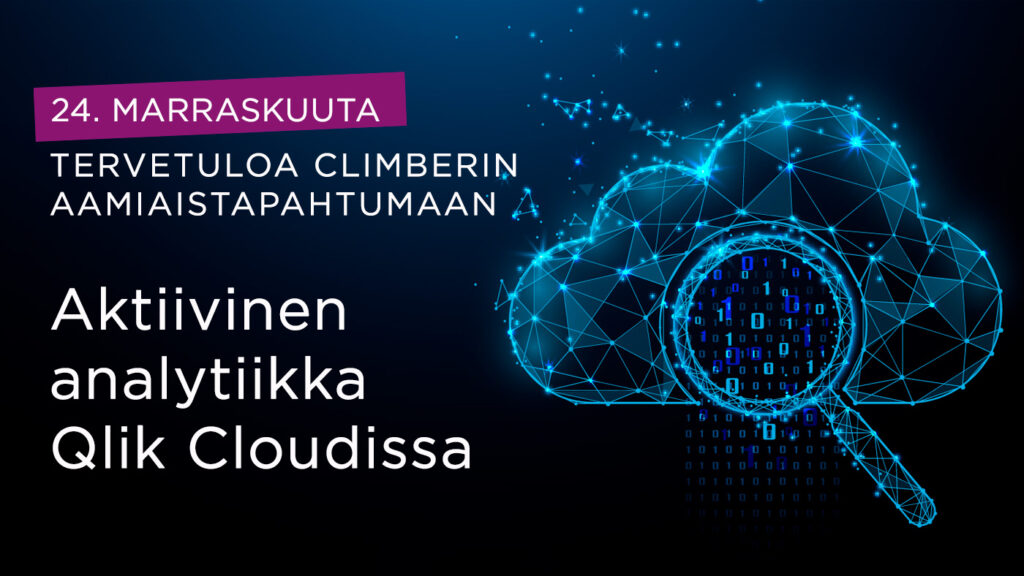 Tapahtumat
Tule mukaan Climberin -aamiaistapahtumaan perjantaina 24. marraskuuta Climberin toimistolle. Luvassa on lämminhenkinen tilaisuus, jossa esitellään käytännön esimerkkien ja demojen kautta Qlik Cloudin parhaita ominaisuuksia.
>> Ilmoittaudu!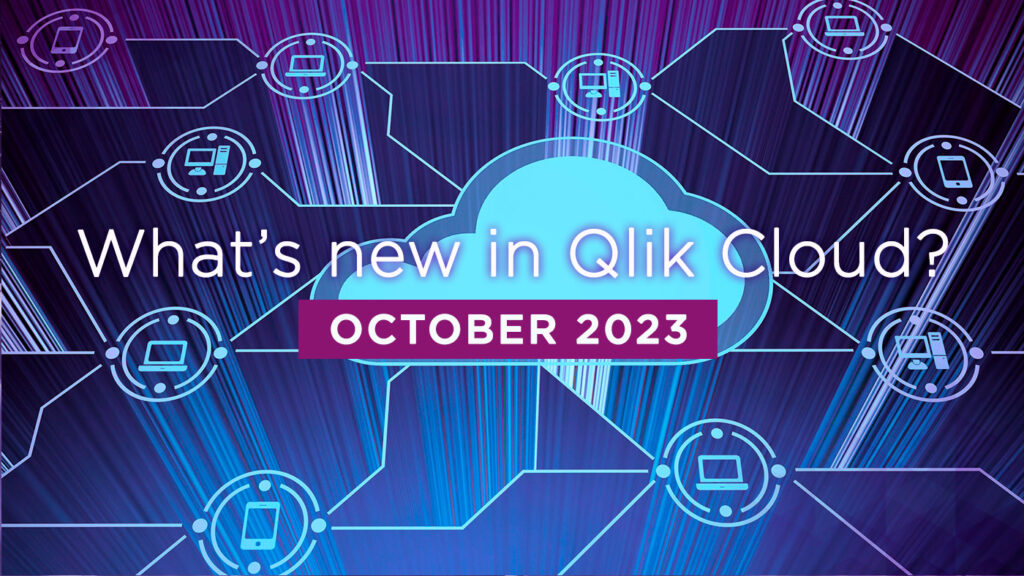 Blogi
In this blog, Roger Gray and Mark James deep dive into Qlik's integration with AI technology that can help with the creation of Qlik application expressions and extend data interpretation. Read more about the latest updates added in Qlik Cloud in October.
>> Read more